Suture Kit is the ultimate training device for developing and refining your suturing techniques. It contains a silicone practice pad and all the instruments and sutures needed for proper suture training. The brand new surgery game is a fun and challenging activity that simulates removing different foreign objects.
Suturing is a Critical Survival Skill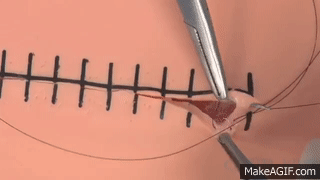 When medical help is unavailable, suturing can be necessary to adequately stop wound bleeding
Suturing Prevents Scarring
When sutures are not placed in larger lacerations, the wound will heal by "secondary intention" which causes thick scarring
Features
The TrueFeel™ Suture Kit is All-Inclusive, containing all of the instruments, sutures, and practice skin pads needed to master suturing techniques.
Realistic Skin
The TrueFeel™ practice pad is composed of mesh-reinforced silicone gels that accurately simulate the density and feel of skin
Variety of Wounds
15 different wounds with both simple and complex shapes allow for a wide range of practice
25 Packs of Sutures
Each kits includes 25 packs of the most common suture types: 4-0 Polypropylene, 4-0 Nylon, 3-0 Nylon, 4-0 Silk, 3-0 Silk
Full Instrument Kit including:
Blade holder with three #10 blades, Tissue Forceps, Curved Hemostat, Needle Driver, Scissors, Storage Case
Brand New Surgery Game
Each silicone pad has 5 hidden objects buried within the pad. Practice removing foreign objects in this fun new activity